This is a story which rolls back to 2010, when I had just finished my 10th standard board examinations and was confused about what to study further. My mom wanted me to take up Science but I hated that subject and wanted to take up Commerce.
I went to the Bangalore Ashram for my 2nd Yes! course. During lunch in the kitchen, I met an uncle who approached me and asked me what my name was and what was I doing. Surprisingly, after a long conversation, he somehow convinced me to take up science. My mom was also in the Ashram. I ran up to her to tell her my final decision. To add to my surprise, my mom's roommate randomly told me that I should take up Ayurveda as a field after 12th. I agreed and was contended.
I came back home and things started getting easier for me now because my Master chose everything for me. From my field to my college to my classes, just everything! It was like a cake walk.
After completing my 12th board examinations with flying colors, I realized the difficulty of entering the medical field and I was confused and started thinking that I am not fit for this and that maybe I should just give up and go back to Commerce. But then, I went to the Ashram again for another course.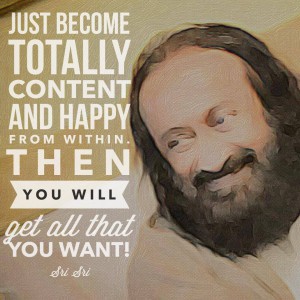 To my surprise, we had a session in the course with an Ayurvedic doctor, Nisha Manikantanji. She has been with Gurudev for more than 15 years. I went to her and asked her whether I should take up Ayurveda and after speaking to her, finally I knew what I had to do. I came back to Mumbai and completed the necessary formalities of the admission process.
Now I had absolutely no knowledge of any good college for Ayurveda but I just filled some random colleges and applied for Ayurvedic Science. I got admission in some college in Kharghar which was 1.5 hours away from where I stay. I was a little unhappy but still took admission there.
I went to the Ashram again in July 2012 to meet Guruji with doubt in my mind about the college. The trip was a miraculous one for me but I did not really get an answer as to which college I should opt for. When I was returning from Bangalore my bus dropped me near Sion station in Mumbai. I was a little disappointed because I did not have any answer yet but I knew somehow he will guide me. A month later I got admission in another college which was just 20 minutes from my home.
Finally I was satisfied with this now and when I went to college on the first day, I realized that Gurudev had already answered my question but I had just failed to realize it. My college was right opposite to the place where my bus from Bangalore had dropped me. I learned one thing from this, he answers all our questions. It is just that we get the answers at the right time.
Don't ever lose faith in him. He will definitely be there for you, Always!
Jai Gurudev
Tanushree Agarwal