I am a Hindu woman who got married in 1995 to a Parsi man. We had a court marriage. Now, we have two children who follow both our religions. Despite having a great family, I underwent some turbulent times. I finally found my savior in 2005, when I did my Art of Living course and connected with Sri Sri. I still sometimes swim against the tide but at least I do it with a smile now. A Guru has that impact on you.
Both my boys are also a part of Art of Living, while I became a full-time teacher, even though I continue my dental practice a few hours a day. I realize every day just how much I have been moving towards the shore. All my dreams are coming true ever since I met Gurudev. However, I always had the desire to be married in the presence of Guruji, which seemed impossible because, of course, I was married years ago. Every time my husband and me fought, my mind kept telling me it's because Gurudev did not bless us on our wedding day. It did not happen in his presence.
Finally in 2013, my husband decided to remove this from my mind and make sure I don't use it as an excuse. For our 18th wedding anniversary, we made a trip to the beautiful Bangalore Ashram to seek blessings from Sri Sri. Deep in my heart, I kept wishing to have a traditional wedding in his presence but decided to keep it within me.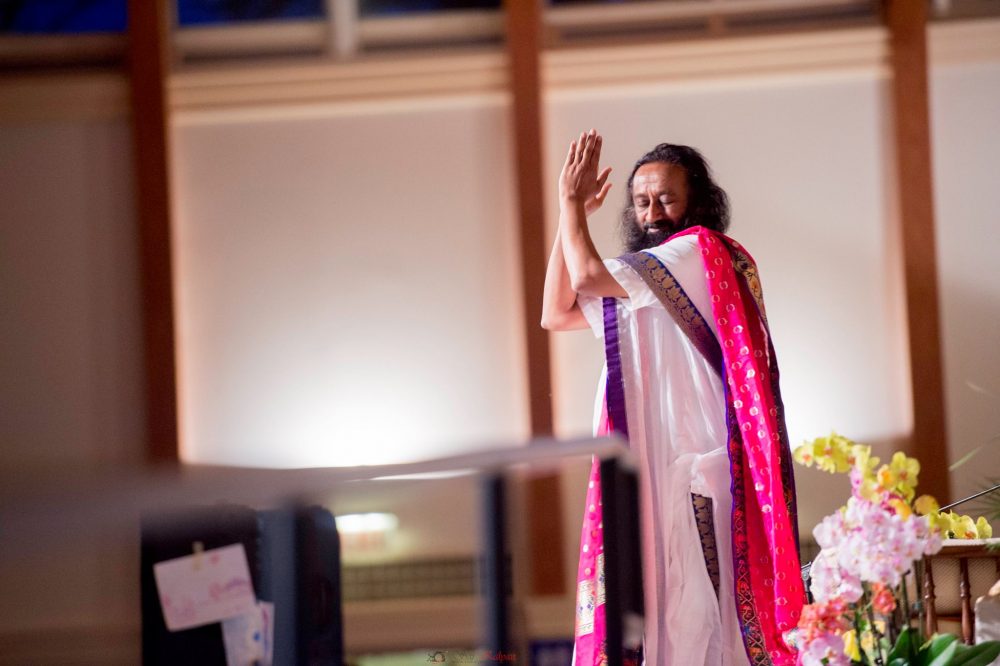 When the day arrived and we were standing inside Shakti Kutir, where Sri Sri meets with devotees, I had to pinch myself to remind me that it's real. What happened next is unbelievable. Gurudev was handing me sweets when I told him it's our anniversary. He asked someone to quickly bring us two garlands, which he made us exchange, in his presence! He also fussed for a while about which pagdi (turban) my husband should have and then Sri Sri made my husband wear it on his head. I was so happy and giddy! After this, Gurudev gave me a gorgeous purple saree. We bowed down and touched his feet. He blessed us and asked if we wanted to take a photo with him. I was just struck with wonder. What else could I ask for?
Today, adorning my wall, is that same photo which feels like a beautiful dream. I am so grateful to my Master for giving me this lovely experience of a lifetime and gifting me with many more happy moments. I also have become very careful and aware of what I wish for or dream about because when you have a Guru like Sri Sri Ravi Shankar, all our wishes and dreams do come true. Now my only wish is that he utilizes my life for a higher cause and my dream is to serve him to the best of my ability.
Jai Guru Dev!
Dr. Shivani Billimoria