I feel extremely blessed to get this opportunity to share with you all, a simply Divine encounter that I recently experienced. It brought me closer to my inner self, I realised how fortunate I am to have the presence of a living Master in my life!:) So loved and so blessed!!!
So here goes…
My husband and I visited the Bangalore Ashram recently. It was the most Divine trip, full of surprises from Guruji himself! He has touched our hearts in a deep way. He has given us so much love and affection, like that of a loving God. Now I am completely convinced that He understands each one of us. He is so simple, yet sensitive to situations around Him and acts just as an affectionate friend would.
Yesterday was our first meeting with Guruji. Brief as it was, I introduced myself and vocalised my desire to meet Him on the occasion of my 50th birthday.
I thought, that was it! Felt extremely happy to give Him the laddoos (sweets), and receive a lotus from Him. I was just so overjoyed!
After concluding this beautiful meet with the Master, we headed back home, and as we were walking back, suddenly, we find His messengers bringing a vehicle towards us, to take us to Guruji . They said, "Are you the one who came here to meet Guruji on your 50th birthday ? Guruji wants to meet you and your husband. Come on, get into the vehicle!".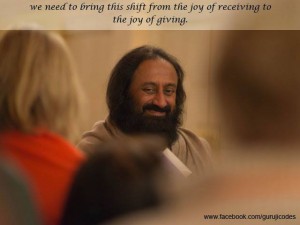 AND HERE WE ARE!!!!
Guruji made us cut a cake, presented a gorgeous Sari to me, and honoured Vishwas, my husband, with a silk Shalla! All this He did with warm hospitality and utmost gentleness, and used the most loving words.I was speechless, so loved and so blessed! That was the gesture of a true Guru. It's a message to learn. Who else other than the Guru himself can deliver this!!!
With lots of Love & Gratitude
Kalpana Vishwas