I was in dire need to do an Advance course but something or the other would keep coming up. I was praying to Gurudev for it and then Blessings came to me in many forms. I happened to get the opportunity, this Gurupoornima, in the form of Kamalashile Gurupoornima Special Advance course. Kamalashile is a tranquil, beautiful village with dense forests and amazing waterfalls located in Mangalore. Our course venue was Sri Brahmi Durga Parmeshwari temple on the banks of a beautiful river in Kamalashile. Eight days spent in those surroundings were the most blessed and serene days of my life as they were soaked silence, meditation, knowledge, seva, satsang, homas, poojas, tears of gratitude tasty food made with lots of love by the volunteers, amazing people, sound of the flowing rivers and rain that never stopped, Chaya Aana (our course teacher) and Gurudev (whose presence could be felt every second). As every drop of rain fell and mother earth received love, I went into a deeper state of meditation.
This was my fifth Advance course, but as always was a very different experience. For the first time I experienced the enormous depth of meditation and stillness (State of Samadhi) which was also filled with love and grace. Along with me, 150 other people experienced this Divinity. So far I have heard Guruji saying "Nature takes care of you, Divinity loves you", and I believed in it, but with this Advance course I have experienced it!
There is a very special incident that happened during the time before our course started. I, along with some course participants and our Teacher Justin, went to visit a nearby waterfall. I was not aware that we had to climb up the waterfall while it was still raining, hence I carried my spectacles along. While climbing up the waterfall, my spectacles fell down all the way from the top. Then there was no way I could have got them back. Honestly, I didn't bother much about as that moment was too beautiful and I was enjoying it thoroughly. So in seconds, I forgot about my lost specs. After we came down and were sitting at the bottom of the waterfall and chatting, Justin, who was sitting right across me suddenly put his hand in the water and to my pleasant surprise, my specs, were found with no scratch on them. I was amazed and in that quiet moment smilingly I said "See, when we let go and be in the present moment, HE takes care of everything"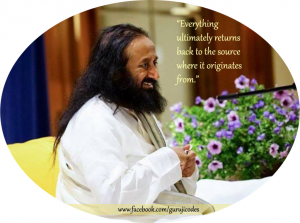 It was absolute Guru Grace and a beautiful opportunity to experience knowledge.This Advance course has given me joy, energy, knowledge, miracles,blessings and love in abundance. I pray to Gurudev that we all should be blessed with the experience of this course. I am ever soo grateful to my Master. Gurudev says,"I will continue to care for you, watch over you and meet your needs,You only have to trust me".
Jaigurudev
With lots of love
Ketki