The most beautiful memory of Gurudev is that of the one with my father. My father was a Gurupooja Pundit. He completed the Gurupooja course in 2006, and I followed in 2007. Before that I completed the TTC (Teacher's Training Course). Papa (father) was devoted to chanting many verses daily and he believed in Guruji immensely.
In May 2012 papa was taken ill. It started out gradually with swellings in his feet, but his condition did not improve over time. The doctors said it might be a problem with his liver, but they couldn't put a finger on exactly what it was. We decided to visit the Ayurveda Hospital first. My brother took him there. He underwent treatment for 6 days – various cleansing procedures. During this time, I was at my Sahej TTC (teachers training course). So in May he was at the hospital and when he came back he was slightly better than before. We all visited Srinathji (a temple) in Rajasthan (a state in India); my father believed in Srinathji very strongly too. After that he went with my brother and his family to Kumbalgarh (a fort). On his way back from there he suffered from a phase of disorientation. We admitted him to the hospital and he was diagnosed with a malfunctioning liver. The doctors and we were contemplating certain paths of treatment including blood transfusion.
During this entire period, I would message Guruji every time letting Him know of the circumstances. Even when I was in the Ashram in May I had explained papa's state to Guruji, about his swellings and other problems. I would keep informing Him about papa's health.
In August he was admitted in the hospital. He was transferred to another hospital and then a third one. At that time my TRM (Teacher's Refresher Meet) course was scheduled in the Ashram. I was in a dilemma; I asked my brother if I should I go. My brother told me to go to the Ahsram; he said he was there to take care of everything here. I wanted to essentially go to talk to Guruji, to let him know that nothing was fine and that I didn't know what to do. I wasn't getting an answer for the texts or emails or anything. I was worried. Though everybody said he has one daughter, how can she go at this time? But my faith in my Guru was the maximum. I truly believed that when I get an answer I know He can cure also. It can change everything completely. If he is not meant to go he will become okay because of Guruji. So with this faith I decided to go, no matter what anyone said. The TRM was for 2 and half days and I didn't stay anymore. I met Guruji when he was on the way from the VM. I said "Guruji papa ki tabyat nai theek hai" ("My father's health is not good"). I tried to tell Him what all was happening to dad. And He looked at me and said "mujhe pata hai" ("I know"). He didn't say anything more about whether it would be okay or not. But atleast I knew that Guruji was aware about it. The next day I sat near the entrance inside the VM, so that when Guruji walked in I could talk to Him. So that day also I told Him – Guruji papa's body fluid levels have gone high, his condition is worsening. He listened to me intently, to all I had to say and looked at me twice. I was somewhat content that now Guruji knew. After I got back to Bombay, my brother and I would still message or email Guruji about father's condition. But there was no reply. And I kept thinking why are we not getting a reply? We were waiting for an answer as to whether he'll be alright or will not be so. I was just waiting.
Then papa began to lose sensation in his hands and his legs. So he was actually going to be dependent, maybe a vegetable if he lived. So we framed the message to Guruji – if papa gets good life, then only let him, otherwise you take him away. Still there was no answer. My father was put on dialysis treatment, which didn't work either. And I was very upset because I did not want to put my father through the torture of dialysis. But we didn't want to prolong the process, because everyday his condition was worsening and one by one his organs began to fail. We couldn't see papa like that. We were feeding him and bathing him. My kids were also by his side all the time; they loved their granddad so much. But we were still anxiously waiting for something from our Guru. On morning of August 16th we heard that Guruji is in Bombay. I asked my aunt but she didn't know. Later we found out that Guruji is indeed in Bombay at a devotee's house. My uncle spoke to Him, told him everything about dad and asked if we could go see Him. Guruji said okay you can come. So some of us went to meet Him. We went there and Guruji told us He missed His flight from Germany to Bangalore. Then He had a choice whether to come to Bombay or to Delhi. So many people told me that they've never known Guruji to miss any flight till now. Was it really possible that He missed His flight? Or it actually happened for Him to come to Bombay?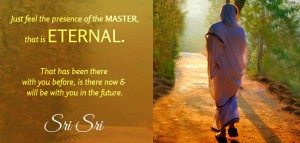 So we went to meet Him and spoke to Him. I told Him Guruji papa's not well. And with both His hands He blessed me and said "unka time se sab ho jayega" ('With time everything will be fine for him"). I asked Him "Guruji you'll keep him with you?" He said "haan haan" ("yes yes"). And then I had some peace. If He keeps papa with Him in His heart I'll be very happy. I don't want anything more for my father. The next day 5' o clock papa passed away.
Every day I used to play the Gurupooja chanting in Guruji's voice. The days he was fit he would chant along with it, others days if he was unconscious or unfit I would just let it play on the phone next to him. He listened to the Gurupooja, Rudra pooja, Lalita Shrisinam and all such chants every day. On the last day I put on the Geetaji from 9 o clock in the morning. We believe in the Geetaji a lot, and it was on repeat till 5 o'clock. Twice in between he heard the Gurupooja. In the hospital, the practice is that when the doctor came in to examine the patient, they'd switch off any music or ask us to, because the doctor wouldn't want to be disturbed. The last day no doctor or nurse came to tell us anything. The entire day all the chants were on, continuously going into his mind. So he was totally at peace when he went. And just like this Guruji took him with Himself.
In the Katho Upanishad Guruji says that when the body dies, when the spirit leaves the body, the first person you meet when you go on the other side is your Guru. He is the one who takes you forward. He is the one who shows you the way. After the incident many people said that in such a beautiful manner Guruji came in person to take my father away; they'd never seen anything like that. He actually came and He took papa with Him.
My father had touched so many lives. From the peons and helpers to the vegetable vendors, everyone came to see him at the hospital. Everyone adored and respected him. He was ever loving, kind and generous. He just gave, never asked for anything. In the end Guru looked after him. And here we were worrying that there is no reply, no message, no email. But He actually came Himself, Gurudev came himself to take care of papa. Such beautiful moments.
All I feel is so much gratitude for the Master. Just complete gratitude; such that I cannot express my love and gratefulness in words. He's been there at every step of my life. I feel every cell of my body belongs to him. If you would open me up and see every cell would be saying Guru Om everywhere; there would be only one thing every cell would be chanting Guru Om.
Jai Gurudev
Charu