I did my Art Of Living basic course 7 years back in Mumbai. It has been the best experience of my life. I learnt the amazing practice of Sudarshan Kriya. After months of meditating, I decided to make a trip to Bangalore, where the AOL International Center is located. That's when I had the precious opportunity of seeing our Gurudev, Sri Sri Ravishankar. I had never felt so joyous, peaceful, and satisfied in life. Just that one loving glimpse that Sri Sri gave me made me realize that this was the true start of my spiritual journey.
He looked at me and asked what my name was and where I was coming. My heart skipped a beat. I told him my name is Kunal and I'm from Mumbai. With his mischievous child-like smile, Sri Sri blessed me. This was my first ever conversation with Gurudev and I knew there were many more to come.
Over the years, I attended various sessions with Gurudev and was sincere with my meditation practices and got involved in service activities. Because this part of my life was going good, everything else was flowing smoothly, too; I got my dream job, I was surrounded with the most amazing, equally devoted people, and I had this endless smile and utmost confidence because I knew Guruji's grace would always be with me.
My wish was always to travel across the world with Gurudev. We know he takes so many trips internationally to meet devotees all over. At my workplace, I had begun conducting meditation sessions and it was so well-received that I was sent to Ireland to travel for a mindfulness conference to train other employees to meditate.
In Jan 2015, I was lucky enough to travel in the same flight from Bangalore to Mumbai with Sri Sri. I was at the airport, waiting for Him to come to the check-in and security point. As he walked by, he looked at me and smiled and asked me, "You've come all the way from Hydrebad to Bangalore to go to Mumbai, why?" I just looked at Gurudev and said, "because I love You." He winked and patted me lovingly on my back as we walked into the aircraft. In the plane, he gracefully met other devotees and passengers who were coming up to him. As the flight landed in Mumbai, we all started walking behind him. He looked at me and called me ahead. I said to Him that I have a wish to move to the U.S. and take up new challenges and opportunities at work. He looked back and said, "that's a good idea, we have a good set up there and you will do great."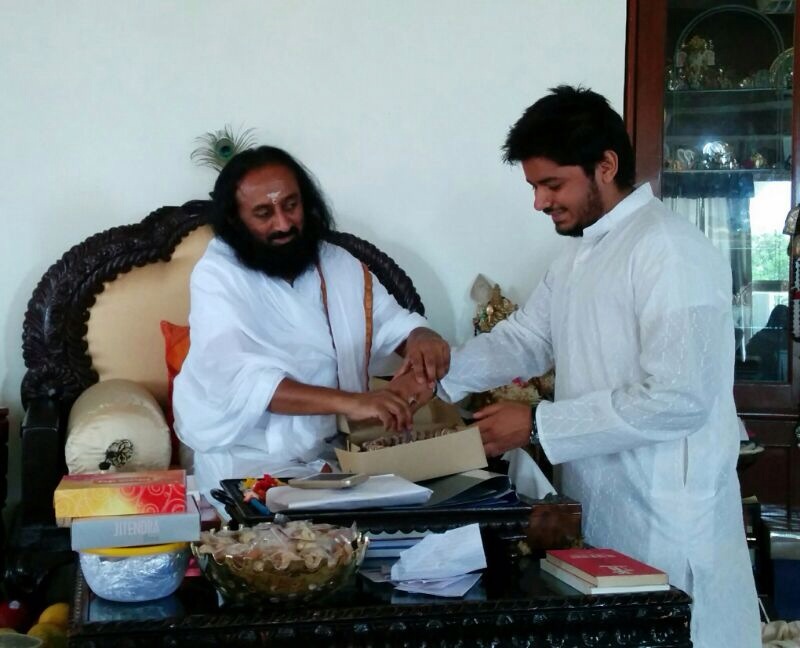 I worked towards my intention of moving to the U.S. and applied for jobs there. While I was interviewing for a few months, nothing had really worked out. On my birthday in June, I went to Bangalore ashram to celebrate with Gurudev. Exactly at midnight, my family and friends started calling to wish me. Amidst all this, I got an email confirming that I had got the job in New York City that I wanted and I would have to move in a month. I was shocked. This was the best gift I have ever received with perfect timing on my birthday and at the holy and beautiful Bangalore center with my Gurudev's blessings. Next morning I met Him and mentioned that I was moving. He blessed me again and pampered me a lot. He gave me a Rudraksh mala (sacred thread worn on the neck) and said that I would do well.
I moved in July 2015 and two days after that was Guru Purnima. Sri Sri was visiting Boone, North Carolina, at another one of our beautiful international centers in the U.S. I had moved at such a good timing. I landed in NYC and the next day, I flew to North Carolina. I can't believe he made all my wishes come true. I have been in the U.S. for 2 years now and attended two Guru Purnima's in his presence. Even today, as I type this, I am celebrating Guru Purnima with Sri Sri. How fortunate am I?
I have been taken care of unconditionally and sincerely because of his love. We are truly lucky to have Gurudev with us. I bow down in gratitude to Gurudev for always being there. I have realized the Guru is always with us. The Guru tattva (energy) and principle is taking care of us dearly and wants us to always be happy and life live to the fullest. I always keep this quote by Sri Sri in my mind and heart: "I will continue to care for you, watch over you and meet your needs, you only need to trust me."
Love and blessings!
Jai Guru Dev,
Kunal Khanna