It was when I was 12. This crowd gathering was sitting in one corner, and it looked like everyone is meeting after ages, like a typical Punjabi family discussing about what each other's children are upto! There was a sense of eagerness in the crowd as I witnessed some eyes continuously stray towards the staircase, as if some celebrity were to walk down through it. It was the welcoming of my Uncle's baby girl.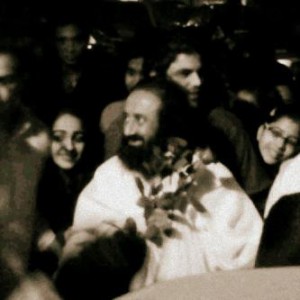 As my eyes rolled up, I saw a man walking down the staircase. A man in a pure white robe, with a long beard, having a smile which was one of a kind. The walk was nothing less than a Celebrity's. And suddenly, the crowd was full of smiles, the smiles I had never seen on their faces. They all started to jump and rush to reach this man and I had no clue of what was going on. What a chaos it turned out to be! But this man and His smile remained unaffected by the crowd. It was as though He was loving the chaos He had created. Little did I know that this would be the last time I was looking at the people around in this man's presence!
Later I learnt that He had come to name my cousin. The chaos followed as He walked up the stairs to His room after completing the rituals, and left the crowd wanting to see more of Him. When I almost forgot about Him and stepped towards the yummy looking dishes with my mom and sister, someone came up to my mom and mentioned that He was meeting every one individually, and that we could speak out our problems with Him. Standing in the queue with my mom and sister, I wondered what it would be like to see this ever smiling man in person, and what would my mom actually speak to Him. Shutting my mind, we walked into the room where He was sitting and He smiled at us. While my mom was talking her issues out, I sat still looking at Him. "Everything will be fine", He said, as He ended and looked at me. He winked, He smiled, pulled my cheeks and gave me this red rose He had in His hand! It felt like time had stopped right at that moment and a new refreshing breeze had brushed my cheek!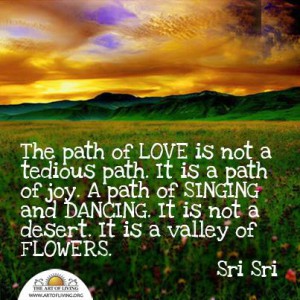 Few years later, I was blessed to be experiencing this wonderful innovation by Him called the "Sudarshan Kriya". The similarity between today and that day is that I still haven't been able to figure out who He is! I don't know who God is or whether God even exists or not. All I know is that this new life and completely new personality that I'm gifted with is only because of this one man, and I owe my life to Him. I don't know whether His saying "God loves you more than anyone else" is true or not, but I know that He does, and that's the biggest miracle in my life. He is Sri Sri Ravi Shankar 🙂
For now I know that as He winked, He chose me to be with Him always. He chose to be beside me, behind me, in front of me, where ever need be. What matters is, He has been and will always be there.
Thank you Gurudev, for all the pampering and all the scolding. Thank you for making my life a miracle. In this lifetime and all the ones to come, I will be grateful 🙂
Love,
Ekta Bhasin