Today 21 July 2014, is my birthday. On this day, in this very moment, after my morning sadhana, my heart is filled with total gratitude for all that I have been blessed with. With this gratitude, tears flowing from my eyes, I wish to share my story with my Guru.
Since a young age, I have always been drawn towards the Divine withvregular visits to our local Temple in the area. I recall spending lots of time praying very hard that I pass my university exams, find a good job and continue my work in the field of human rights, my life long passion. And with the grace of the Divine I was fortunate to have received a scholarship from the US government to further my law studies at a prestigious law school in Washington DC. On my return to South Africa, my wishes were further fulfilled, when I was offered employment by the first democratic government of South Africa as a Legislative Drafter in 1994.
What I had not anticipated is what came a few years later. In 1999, I developed very strange symptoms in my body. Following many tests and eventually an MRI, doctors diagnosed me with a hyperactive pituitary gland that produces a tiny little micro adenoma in your brain(small little benign tumour in the brain). It was inoperable, given the size and location of it and the only treatment possible was tablets that made one feel awful. Overweight, imbalance of the hormones, migraines, exhaustion, taking a pill every day and annual medical tests became a way of life for me. The prolactin levels in my body remained steady due to the medication taken everyday. Of course this was not the ideal way to live, given the side effects of overweight and all else in addition to having a stressful job where the mind has to be constantly engaged in law books, case law, and writing high level memoranda destined for the Minister of Justice to approve. Life became very hard and challenging.
I continued this way until something very wonderful happened to me in 2010. On my way back to Pretoria, having spent a long weekend in Durban with family, naturally one feels totally depressed to leave them behind and return to Pretoria where life can be very lonely. Holding back my tears and clutching at my heart, I asked Sanjiv, my husband, to please stop at the local bookstore. I wanted to get a few things for home. We stopped briefly, I jumped off, walked into the store, browsed a bit and stumbled upon something that would change my life forever! There was this book, with a beautiful picture of this person dressed in white, eyes smiling back at me. The title of the book was "Guru of Joy". I immediately picked up the book from the shelf, did not even page through, walked to the counter to pay and marched off to the car, forgetting all else. As we began our six hour journey back home, I began my own journey with my Master. I read the entire book spell bound by the beauty and grace of the Master, the stories shared by devotees and disciples. I finished the book upon arrival at home and announced to my children and Sanjiv, I have to know more about Sri Sri, I have fallen deeply in love with Him, with the stories and the Grace expressed in this book. I had this sudden desperate feeling that I too wanted to experience the joy shared in this book.
I continued my search for Sri Sri through the internet. Being drawn to music, I bought the Sacred Chants of Shiva without knowing that it was actually an AOL CD. I had to know more, I was restless, and then came my first encounter with our local teacher Anand Makan. He shared with me about the Art of Living Foundation and embraced me with open arms, inviting me to Satsang. I attended taking along my sons and my niece and a friend too. I loved it. I knew then as I know now, that was to change everything for me for the better. I did my Part 1 course with Anand, Neeraj and Shamala, and by the end of the course I immediately felt a difference in my body.
Two months later, I proceeded to the Part 2 course and I firmly entrenched Guruji in my life and in my being. There was an immediate remarkable improvement in my health, I consciously decided no longer to take medication and had this firm faith that my battle with the hormonal imbalance and high prolactin levels in my body will soon be a thing of the past.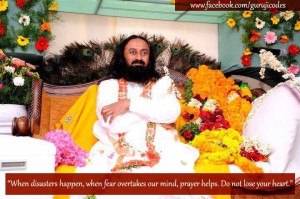 Medical tests done later in the year and every year since then to date, have all indicated my prolactin to be absolutely normal. In 1999 my levels were so abnormally high that I could not even conceive my second child. A few months ago, I underwent tests and I was again given a clean bill of health. Today I am a different person from what I was in 1999, I continue to work as a human rights advocate in the Department of Justice of South Africa, I rise every morning before dawn to do my daily sadhana, and I can say with confidence that I am more effective in my work and my family life.
Of course my next deepest wish was to meet my Master so I could share my joy and surrender all that I have and all that I am to Him. And that too was to be. I met Guruji in Bali in 2012, and by His Grace was given this opportunity to share my experience with Him personally, when He met all the delegations from across the globe . I finally got my chance to share with Him how the Kriya and the breathing has healed my body. Guruji, of course, as He always is with all His devotees, was thrilled to hear one more miraculous story of healing through His Grace.
Initially I had thought it was going to be impossible to come near Guruji as the group gets much bigger each year in Bali and everyone wants to be close to Him. After two days of desperately trying to come near Guruji, I declared my feelings to my sister- in law, that "I don't think I want to go to Satsang tonight, I feel despondent having come so far and not being able to meet even the Master's gaze". Not hearing a word I had said, she insisted we get ready and take a walk along the beach. Sulking as I did, we dressed and walked over to the beach. As we sat around the benches outside the designated area for Satsang, there came Guruji. I called out to Him, "Guruji one picture please?" And my Master obliged☺
Today I walk the path with my Guru, hand in hand, firm in the knowledge that whenever I feel weak, I know that He is always there for me! I will forever remain in the service of my Master and the Art of Living Foundation as it is doing great and wonderful humanitarian work across the globe, changing peoples' lives for the better, everyday!
Jai Gurudev
Always in your service, with much love and gratitude
Ooshara Sewpaul
Pretoria
South Africa