Jai Gurudev 🙂
My name is Bhakti Bakale. I live in Vasai (a locality Mumbai). Though there are many miracles happening with Guruji's presence in our lives, I would like to share something which I recently experienced.
I am working with Deutsche Bank since more than a year now. I was recruited just before the launch of a major project. I completed work on the same and it went live in October. Once that was done, a lot of paper work was reduced, which lessened my scope of work as well. The bank was also going in for cost cutting. And due to the launch of a new system, work that was previously being handled by me was now to be outsourced to the Accenture team, which meant that my role in the company would no more be of much significance.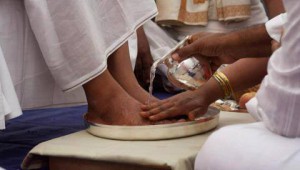 I had a meet with my manager in May'13, where he very clearly kept the situation in front of me and asked me to look out for a job elsewhere, as due to reduction in the volume of work, they didn't require my post any further. I was shocked to hear this. The very first thought that came to my mind was about the difficulty I would have to face in paying the EMI's for the housing loan that I had recently availed of. I hadn't even paid my first EMI yet, and suddenly there was going to be this financial crunch which would make the situation extremely tough for me. I did not have any other arrangements to make the payments, apart from my salary. I was really tensed and also spoke to a few AOL teachers and volunteer friends, who suggested that I should not worry and instead accompany them for the Advance Course that was to happen in June at the Gujarat Ashram. So with complete faith and surrender, I went ahead and attended the Course. It was taken by Sangeeta Jani. I had a blissful experience while on the course, and felt a lot of peace and serenity. I dropped all my botheration's at the lotus feet of Sri Sri.
After the course, I resumed office and also started my search for another role. I was doing my Seva (Service) and Sadhna (Practice) regularly and also attended Satsangs. I embedded the words of SangeetaJi "Everything is being taken care of" in my heart and soul and this gave me the confidence and faith to leave aside all my worries and just relax.
It had been just 15 days that I had returned from the Course, and one fine afternoon, the Vice President from another department came up to my desk and asked me to meet him the same evening at 6.30 pm in the meeting room, as he wanted to talk to me about something important. So I met him and I was surprised to know that he had a job to offer me. He said "I got to know that you are looking out for another role since your project is now getting over. If you are interested, we would like to take you in our department." Wow! I cannot explain what I felt on hearing that. I knew that it was possible only and only with Guruji's Blessings. I knew that He was doing the magic in my life. I readily accepted the offer and thanked Sri Sri with all my heart for His immense Grace and Love. I saw Guruji in my dreams the previous night and the same morning as well, while I was meditating.
On reaching home, tears of gratitude towards my Guru dropped down from my eyes. I kneeled in front of His photo and thanked him for blessing me with this opportunity.
I cleared all my interviews for the new role and got selected for a single position among 14 candidates. It was all Sri Sri's Grace that made this happen. Now I am working here with full enthusiasm and there is great learning. I got offered a 30% hike in my pay package as well. I am truly so fortunate to have a living Master by my side.
I had faith in Sri Sri and He worked out the best for me. The Advance Course really benefited me in all aspects.
Thanks to Guruji 🙂 JGD
Regards,
Bhakti Bakale