Jai Gurudev! I did my basic course in December 2003 at Chennai, greatly inspired by Guruji's visit to Guindy Engineering College, shortly before the course. Needless to say life has become more and more meaningful and beautiful since then. I have rejoiced in many Guru stories thereafter, but the most favorite one is this:
I do the travel bookings for my office and have often struggled with doing train bookings. This time my boss wanted to travel to Kochi, Kerala for visiting Sabari Mala (pilgrimage center located in the Western Ghat mountain ranges of India). He was wearing the "Mala"(a ritual) for Iyappa (a diety) and had commenced the austerities related to the travel. The rush for train reservations was unbelievable, but somehow we adjusted the dates and squeezed a couple of reservations for him, his son and son-in-law.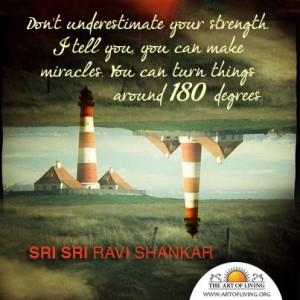 A couple of weeks later owing to some communication gap between my boss's instruction and my understanding, I cancelled the tickets by mistake which I had booked with great difficulty. After coming to know about my mistake, I was immobilized. I didn't know what else could be done other than travelling tediously by road or taking an expensive flight only because of my mistake. I normally work with Guruji's photograph pinned up before me, on and off looking at his smiling face and taking strength as I work. This time I looked up helplessly at him and told him "Gurudev, do something, there is no one else to help me out of this. You got me into this and now you get me out of it".
I never do any booking or cancellation before looking at his picture and I was positive that he had to help me out. When I logged into IRCTC website and glanced at it fearfully, my heart jumped. There were three tickets available for booking which I had cancelled. I felt so blessed. After quickly completing the bookings, i confessed my mistake to my boss. Though he chastised me for the blunder, he was mollified that things were set right and I walked away with a light-heart. I love you Gurudev and I'm grateful that you included me in your fold. Since knowing you, my life has been one series of happy endings. May God bless you and all your loved ones – now and always!
Renuka Ramesh