Once I visited the Bangalore Ashram in August on Raksha Bandhan day (a festival in India where the brother promises to protect his sister throughout his life) . I had gone to meet Guruji and was eagerly looking forward to tying him a rakhi (a holy thread that the sister ties to her brother) myself. That enitre day I held on to my rakhi waiting for an opportunity but I wasn't able to reach him or tie it to him. I was feeling a little apprehensive, but I kept telling myself it doesn't matter; and I kept delaying passing on the rakhi, hoping that later maybe I'll go inside his kutir or later at night I'll get a chance. But the day passed and by evening I was quite restless to tie the rakhi to Him. In the evening we were all gathered at the Yagnashaala. Guruji was on the stage and just below the stage is a square area enclosed by a railing where some Swamijis and teachers were sitting. I was sitting right ahead just at the edge of the railing and I could see Him prominently. My uncle who is advance course teacher was sitting on the inner side of the railing in the square area. I was still dearly holding on to my rakhi, wondering that the day is almost over and now I wouldn't get a chance to tie it to him myself. Meanwhile everybody was sending their rakhis through the people seated ahead. So Guruji was receiving all these rachis in bulk and some people on the stage were tying all the rakhis on his hands. Guruji's hands were so full of them and he was enjoying tremendously. The happiness on his face was incredible. And while feeling completely blissful, I was still in a dilemma whether to send my rakhi to Him. My aunt was also on stage tying rakhis for Him. And then I finally let go. I decided that now there wasn't a chance to meet Him and I really wanted my rakhi to be atleast tied on His hand. So I sent my rakhi through my uncle, he was sitting on the inner side of the railing so he stood up, took it from me and passed it on to the stage. When I was passing the rakhi, Guruji looked in my direction to see where the rakhi was coming from and he saw me. Even when my rakhi was being tied to Guruji, He was still looking right at me. Sometimes you feel like is He really looking at me or is He looking at the whole Yagnashaala! But I felt well atleast he looked at me. I know my rakhi went to Him and I know he saw me. So I convinced myself that I tied it to Him basically.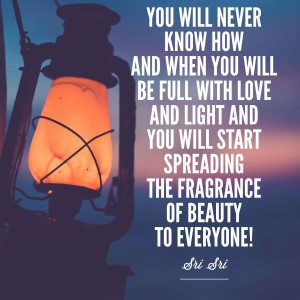 Then later at night after the satsang, I met a friend and she said she still had her rakhi and she wanted to tie it to Him. And
I told her 'my rakhi – I finished tying it' and I told her how. And now even I wanted to tie it to Him! So she told me to wait with her and we standing outside the Vishalakshi Mantap and now I also wanted a rakhdi. I had only one which I had given off. So I was wondering what to do. Then I saw another friend come out of the hall carrying the whole bunch of rakhdis in a box, which had already been removed. Guruji had removed them and His hands were empty now. I said to her "please give me one, please give me one" . She was hesitant saying that we had already removed and that everybody would start asking. I really requested again and she finally gave me one from the lot. So we stood near the steps waiting anxiously, such that when Guruji would come this way the first people he would meet would be my friend and me. And then Guruji came and we excitedly went to tie him rakhis on his empty hands. And he looked at me and he said 'tumhara toh ho gaya na' (You have already give me). I was speechless at that moment! I just kept thinking how could He know! Thousands of people in the Yagnashaala and that many rakhis, how did He know mine and I was sitting far from Him. And in my overwhelmed state I told Him I want to tie it again. I tried to convey how I gave it through my uncle and how to tell Him that I want to personally tie it for you! And then I finally tied it and I was filled with such a sense of fulfilment. He smiled and blessed; the feeling of so much love and grace was worth everything.
Jai Gurudev
Charu