Jai Gurudev!
I wanted to share with you all, a beautiful incident that made me realise the power of my Master and elevated my faith and trust in Him, multi fold!!!
My husband and I were residing in Surat since a couple of years. During July 2006, we went to meet Guruji at Rishikesh, as He was to be there for a few days, and we did not want to miss out on such a wonderful opportunity of seeking blessings from the Master Himself! So with happiness and excitement in our hearts, we set out to visit Him on the very day that we arrived.
I was ecstatic on seeing Him. It had been a while since I had met Him closely. I had reached a state of pure Bliss:)
Then we went further to meet Him. After giving us a loving smile, He asked us where we lived, not once, but twice. I was quite puzzled at the question. I did not see any need for Him to ask us that question at the time. But without pondering too much, I replied saying "Guruji, Surat!". He nodded and gave us blessings. We then left. I was very happy after this Divine encounter.
The next day, we went back to Surat. To my surprise, I saw that my husband's elder brother had decided that our family would be shifting out of Surat and moving into Kamrej. I was not aware about the logic behind this shift. It was a sudden event to me, and I had no option but to pack all my luggage and move. So we all shifted into our house at Kamrej.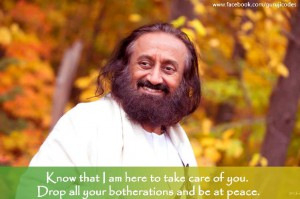 From that very evening, there were heavy rains in Surat, rains like never before. Within 2 days we got the news that there were floods, as well, in Surat, and that the area where we previously lived were among the most highly affected regions. Had we continued staying there, it would have been tragic, owing to the gushing rains and floods.
And then it all fell in place. I now realised as to why Gurudev had asked us that question about where we stayed. He ensured that we moved out from the area that could have wiped us out. Only and only His Blessing and Grace has saved us from the unknown, unfortunate situation.
Thank you Sri Sri for being my Saving Grace:)
Jai Gurudev
Harsha