The story I am going to narrate happened on 31 Oct 2013. I was going home after ten months, from Bangalore. More importantly, it was a surprise for my parents, as I had told them that I would be home on 02 Nov 2013, for Diwali. My flight was at 15.45 hrs and the boarding pass was to be issued till 15.00 hrs only. To maintain punctuality, many airlines don't issue the boarding pass if a passenger is late.
I stay about 28 km from Bangalore airport. A friend of mine who stays nearby, said that it would take me around 30 minutes to reach the airport by bus. So, I set out from my home at 13.30 hrs. I was in the bus by 14.05 hrs. When one of the passengers asked about the time it would take to reach the airport, the conductor said that it would take at least 50 minutes. On hearing this, I was shocked because that meant I would reach the airport at 15.00 hrs, and stood a chance to miss the flight.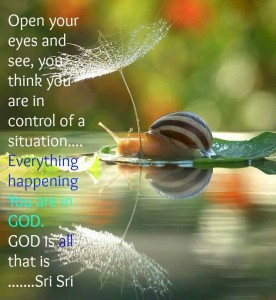 I have read many Guru stories on this website, and so I thought of trying out my own faith this time. This was going to be like a test of my faith in the Master. So I prayed to Guruji telling Him that I wanted to catch the flight, I don't know how I would, but I really wanted to go home and surprise my parents, rather than me getting surprised by missing the flight. Then I was just looking outside the window, killing time, when I got a phone call from the airline. I thought it would be to remind me about the flight. But to my surprise, it was not so. The automated message was something like this, "Dear passenger your flight ***** has been rescheduled to 1620 hrs. We regret the inconvenience caused."
Oh My God! What just happened. I knew prayers get answered, but this fast! I couldn't have asked for more at that time. I was just so happy with this lovely miracle that I had experienced. The 35 minute delay was perfect for me. It meant that I could collect the boarding pass till 15.35 hrs. I reached the airport by 14.50 hrs, got the boarding pass, and went for security check. As there were many passengers at the airport, the entire process took time, and by the time I was done with the security check, boarding for my flight was announced. I was the second passenger who boarded the aircraft. The journey from missing the flight to being the second person boarding the aircraft was just unbelievable. I couldn't thank Guru's Grace enough for this.
In the aircraft, the pilot said that the 35 minute delay was because the aircraft came in late from Mumbai. Guruji knew that I would be late and planned everything accordingly. This experience reaffirmed my faith that whatever happens, happens for good!
Jai Guru Dev
Himanshu