I visited the Bangalore Ashram in August 2011, where I got an opportunity to see our beloved Guruji. There was something mesmerizing about Him. His presence felt just so divine. His being was not that of a human. I felt as though I was in a different world, a world of peace and bliss. A world that seemed like heaven on earth. And before I could realize what it was, I found myself sitting for the next Yes+ course in the Ashram, in the presence of Sri Sri Himself.
I have been staying all by myself in Bangalore since I started college. It's been quite difficult for me to survive here alone. Living by yourself in a new city is never too easy. I had started smoking and alcohol had become an integral part of my life. I felt I could not do without it. It was more of a psychological thing. I kept looking for support in the outside world. Little did I know, it was all within. Since the time I did my first Sudarshan Kriya (meditation and breathing technique taught in the Art of Living basic course), I started feeling the positivity in my life. I could feel the energies changing. My life had taken a big turn since then. Things that seemed impossible were actually materializing. I had quit smoking and drinking and there was no urge to get back to it ever again. I know it was all Guruji's Grace.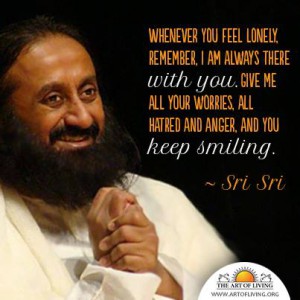 Recently, I completed my Law degree from a reputed college, but was unemployed. I had been trying really hard to get a job at the earliest, as I had to support myself, but all my efforts were in vain. Though somewhere down the line, I had this faith that everything will be taken care of, everything will work out, and so I surrendered to the Divine.
Last week, I had an interview scheduled with a multinational company for a Legal post. I sincerely prayed before going for the interview. After the first round of Interview, when I got an opportunity to interact with the other candidates who had come for the interview, I found that I was the only fresher while all the others had quite some work experience. It seemed to be extremely difficult for me to get that job, considering the fact that my competitors clearly had an upper hand. I thought to myself, "Probably this job is not for me", but I still did not lose hope. I gave all the other rounds of the interview with great patience, applying the 5 Golden Rules that I learnt on the Yes+ course. What followed was a lovely miracle. To my surprise, when the final list of selected employees came out, mine was the only name on it. I was the only one who got selected for the job. Wow! I still remember that ecstatic feeling!!
I humbly thanked Guruji as it was only because of Him that I got the job. I know He is there for all of us and He is watching over us always. He has been a great Blessing for me and now I can never imagine my life without Him.
Jai Gurudev,
Shilpi