I had done my Part 1 (Basic) Course in January 2006. After that I did my DSN Course, Part 2 Course, Advance Meditation Course, Sahaj Samadhi Course with Guruji. For me the Art of Living Courses (or even an entrance/basic course) is not just a stress elimination technique but a door towards heaven, a path taking you closer to the divine, to yourself! Even in the Bhagavad Gita, Lord Krishna has said: Whatever spiritual practices you do in this life, its good effects are carried forward in your next life; it does not lapse.
I knew the Art of Living Course have benefited me a lot and I wanted my family members to experience the same bliss. If not all the courses, then at least the basic course, at least they should experience the magic of Sudarshan Kriya (breathing and meditation technique). I don't even expect them to practice it daily, but at least complete the Part 1 course. Just doing the Part 1 Course is good enough. The Guru Grace is such that the 1st Sudarshan Kriya itself burns our past Karmas.
I gave my 100% to involve them into the Art of Living, to make them do the Part 1 Course, but somehow they had their own excuse of not doing it. My family includes my elder sister, younger sister, mom, dad and aunt. While my elder sister had done the Part 1 course (interestingly she had voluntarily registered for the course in place of some other participant who had to cancel his seat at the last moment), the others were still hesitant to do the course. My mom would say that she had to look after household work and that 5 days was a long duration for a course. At the same time, she said she was afraid of getting too much into spirituality. My younger sister was least interested in meditation. My aunt had her own closed mind concepts. Convincing my father was out of question.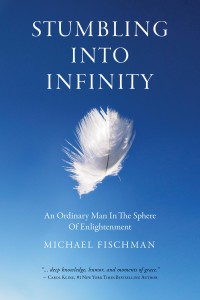 In 2012, one day, my sister, who is very fond of reading books, asked me if I had a book which she can read. She had finished reading all her collection of fiction/non-fiction books, so I gave her 'Stumbling into Infinity', a brilliant book written by Michael Fischman about his spiritual journey. She read and completed that book in 3 days! She loved the book, and asked for more. I gave her 'Narada Bhakti Sutra' (a book by Sri Sri giving an inspiring discourse on the Bhakti Sutras of Narada – Aphorisms of Love ) which she quickly finished. Then she came up to me and said 'I want to do the Part 1 Course!' My joy knew no bounds.
I 'announced' at home that on 10th October 2012, which was also my mom's birthday, they would all (sister, aunt and mom) be doing the Part 1 Course. Of course, my mother and aunt were hesitant but then I was adamant too. On 10th October 2012, the course was supposed to start at 6:30 am, and just 2 hours before, my aunt suffered a life threatening fall and broke her ribs. The course got canceled (None of them could do the course because of this incident)
I started wondering, why this happened on the very day of the course. While Guruji himself says 'Bring everyone to knowledge' then why is He not letting them do the course. We hospitalized my aunt. The Art of Living teacher also helped us a lot in midst of all this. I sought blessings for my aunt from wherever possible. My only wish was to not let her die before doing the Part 1 Course. Slowly and steadily she started recovering. The Part 1 fees I had paid for all three was still with the teacher, which I let her keep because I wanted them to do the course from that teacher only (interestingly she was my Part 1 teacher too!). Incidentally, during that time even my teacher was going through some personal problems, which kept on delaying the course.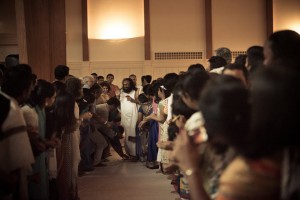 It was March 2013 and 5 months had passed since the accident. My aunt had recovered 90%. Suddenly a thought came into my mind. I decided to use the same technique that helped my sister to get convinced to do the course. I purchased three different Art of Living books written by Sri Sri and casually asked my mom and aunt to read it. Perhaps that would instill that seed of faith in them. They read and completed the book. On 16th April 2013, my sister saw a post on Facebook. It said 'Do Part 2 course with Guruji'. Reading that she secretly prayed 'Wow some people are so lucky to do the part 2 course with Guruji, and here even the Part 1 is not happening!'. That evening, my teacher came home as a surprise. She asked if it was possible to start Part 1 Course from tomorrow, 17th April. I said YES! Immediate calculation showed that all three of them would experience the Sudarshan Kriya on 18th April 2013, which was my sister's birthday!
Finally that day came, when all 3 of them completed their Part 1 Course. Today, they practice the Sudarshan Kriya daily, without fail, and the best part is we go for the weekly follow-up together! Special thanks to all the Blessers who blessed my aunt, my dear friends who kept my family in their prayers. Looking back at 2006, who would have predicted that this day would come where me, mom, sister and aunt would go to the same teacher and complete the Part 1 course.
Guru Grace makes it all happen! Blessed to walk on this planet with 'YOU' at the same time!
PS: About dad. I am sure to get him in very soon! (perhaps with some other technique, some other Guru Story) 🙂
Jai Gurudev
Yogendra Bhonsale